Need for Spending Goal and Monthly Rollover
I'm so confused!
I just started YNAB a few days ago and set up my budget to cover a few things remaining in July and all of my expenses in August. I have goals set for every category. I had post-dated transactions entered for bills that get paid automatically on the 1st of August. Now that it's August 1st, I don't see what I expected to see.
Using my Internet category as an example, when I set this up a couple days ago I flipped to August and set a $150 goal for my Internet category. I selected Need for Spending, I selected Monthly, and I selected the 1st since that's when the bill is paid from my checking account.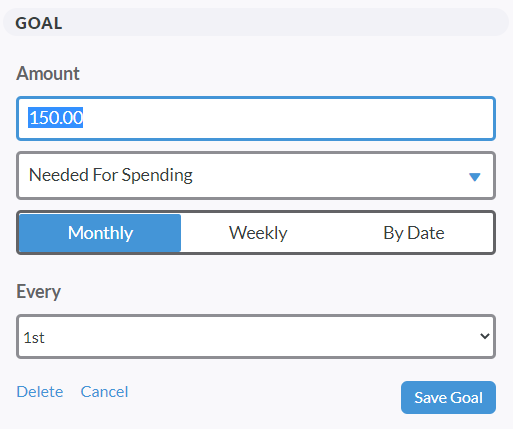 Today (Aug 1st), I see my scheduled transaction of $117.89 is reflected in the Activity column and $32.11 is in the available column. So far, so good.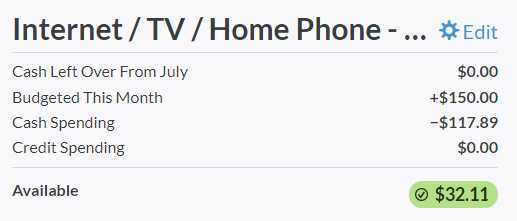 Now I flip over to September, because when I get paid on Aug 10, I'm going to start filling in my Sep budget amounts. Looking in the Internet category, I still see $32.11 in the available column, but the inspector shows I still need to budget $150 to reach my goal!
This contradicts the documentation I've been reading and videos I've been seeing. In the article on goals at https://docs.youneedabudget.com/article/128-goals there's a big pink box in the Need for Spending section that states, "When using Weekly or Monthly goals, if you don't spend all your budgeted funds in the current month, the remaining amount will contribute to the next month's goal(s) when the month rolls over." (Emphasis added.)
If my leftover $32.11 is supposed to contribute to next month's (September's) goal, why does YNAB still tell me that I need to budget $150 in that category in September to stay on track? Shouldn't YNAB tell me that I need to contribute $117.89 to reach my goal if the leftover contributes toward my goal automatically?
What some people do (me included) is I have a category called Month Ahead and that's where the next months amounts gets budgeted this month. Then when the month rolls over, the Month ahead category will have that amount available. I set that to $0 which dumps it all in To be budgeted and go from there. A good thing to read about in the resources is "stealing from the future" which is why I do things this way.


note- this is a hot topic for the YNAB crowd so as a new user heed my warning ⚠️ you don't want to get embroiled in the debate of how this "should"work.