New Sorting Features 📂
Happy Friday, YNABers!
Functionality improvements in the forum are our top priority, so the big change you'll notice today is our new sorting capability at the bottom of the home page and on each category 🎉 🎉 🎉
If you're on the home page, click the arrow next to All Topics to filter down to one category at a time. There are several sorting options available, too! By default, you'll be set to sort by most recently active topic, but you can sort by the newest, most viewed, most liked and more.
Use the profile icon on the top right of the section to see only the topics with unread replies, or any categories/topics you follow and the three dots above that to mark all topics as read or unread.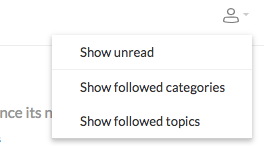 When there are new replies to a topic you've read or participated in, you'll see an indicator in orange next to the total number of replies.
Click that and you'll be taken to the beginning of the topic, with a fresh window of new replies in the top right corner. This will often be a preview, so you'll want to click the View button to jump to the full comment. If there are multiple new comments in a topic, you'll have the ability to scroll through them in that preview window, jumping to each one for context.
We hope these features improve your experience as you navigate the forum!
Keep an eye out for more updates coming soon and, as always, please let us know what you think of these changes or if they work differently than you expect them to.
Awesome, I can now use this to filter out Bank Syncing and Credit Card topics from the main List, woohoo!! But... sadly there is a negative side affect. By subscribing to all Categories except those two, my e-mail notifications are out of control.

Any way to get email notifications for followed Topics only, and not "Categories AND Topics"? Or perhaps I'm missing something...