YNAB Giveaway!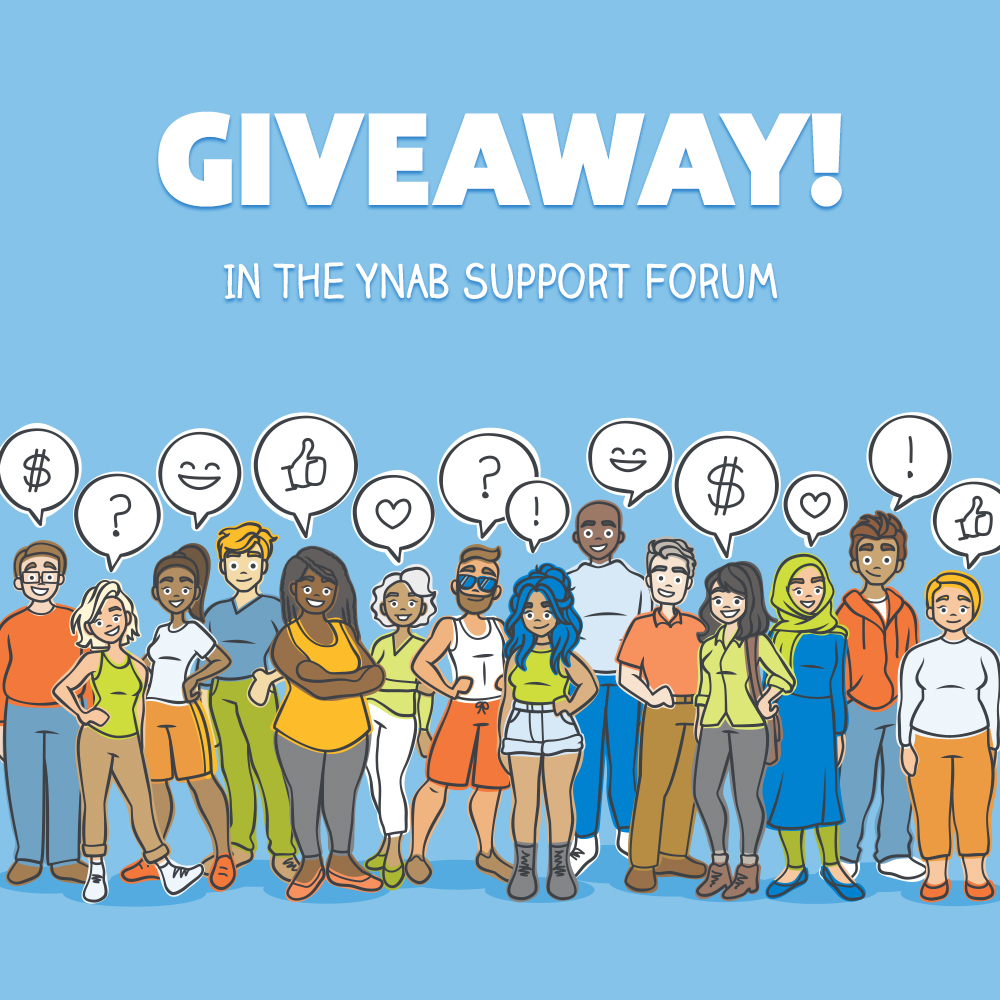 Hello, YNABers! It's time for another YNAB Forum Giveaway! We're hoping to get more folks to join the forum, so we're doing a little giveaway! We'll be sending three months of YNAB free and the YNAB book to five winners. We'd like to include new folks as well as current forum users, so even if you're not new, please participate!
So here's how it will work:
Leave a comment below answering this question: "What is your biggest YNAB Win?"
On Friday, 10/12 I will choose five people at random.
That day, I'll contact the winners privately to get some information so we can send the prizes!
A few notes for new folks:
If you haven't created an account with the forum yet, you'll just need to do so before you can comment. Click 'Login' at the top of the screen. If you're already logged in to your budget in the same browser, you'll automatically be signed into the forum. If not, sign in with the same email and password you use to log in to the YNAB app. If you haven't used YNAB before, you'll need to create an account first.
New folks will be assigned a random name, avatar, and username, but you can change your name and avatar if you like! Just click your user icon in the upper right corner and select Edit Profile.
My biggest YNAB win was a few years ago. It was ynab giving me the tools and strategies to keep my life afloat financially on a very restricted income after my spouse left me with our medically complicated baby. Finding YNAB after becoming a sole parent - and the financial ethos it encourages - meant I was able to pay off my car loan 2 years early, take myself back to school for a career change, and still keep my child fed, clothed, and educated - albeit only in terms of essentials. It gave me perspective on my finances and clarity for my future goals - and the knowledge that "I can do this".

My YNAB win is that I can finally enjoy the things I do for myself without feeling guilty over the money I'm spending! Every few months I like to get a massage but before YNAB, I would feel like that treat was way too self-indulgent. Now I can see it is a small amount of money in the big picture AND that not only can we afford it, but I can set aside the money so that I don't even think about the cost when I do it. The same is true for buying small (or large!) souvenirs on trips. I used to think, "Man, I spent all this money to travel here, I shouldn't be buying anything!" But with YNAB I can see that I as long as I'm under budget for my trip, I should allow myself to enjoy a small piece of art or memento. It has been been so freeing to enjoy those things!

My biggest YNAB win was listening to the YNAB audio book! Honestly, I tried to use YNAB before, but just didn't understand how it worked. After listening to the book, not only did I understand how the system worked, but it changed my entire outlook on budgeting! And my financial life has been MUCH easier since! It's been so exciting for me, I've started helping others learn to budget the YNAB way!

My biggest YNAB win is I turned my ship around. I went from spending more than I brought in to saving a fair amount. It has taken years, with more baby steps than I ever thought were possible. I never imagined things could change so much, simply by adding a budget and practicing "mindful" spending. I am very grateful I found YNAB, listened to their method, and started working the process.