YNAB Giveaway!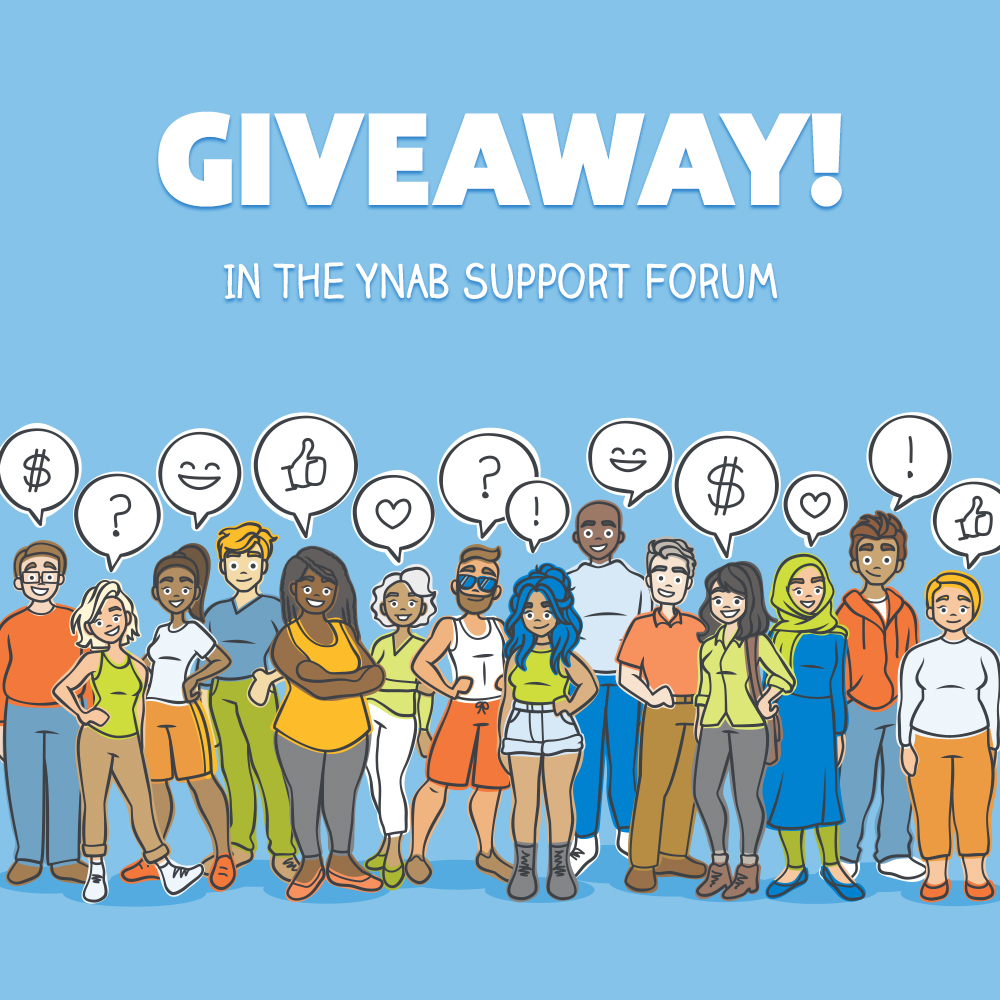 Hello, YNABers! It's time for another YNAB Forum Giveaway! We're hoping to get more folks to join the forum, so we're doing a little giveaway! We'll be sending three months of YNAB free and the YNAB book to five winners. We'd like to include new folks as well as current forum users, so even if you're not new, please participate!
So here's how it will work:
Leave a comment below answering this question: "What is your biggest YNAB Win?"
On Friday, 10/12 I will choose five people at random.
That day, I'll contact the winners privately to get some information so we can send the prizes!
A few notes for new folks:
If you haven't created an account with the forum yet, you'll just need to do so before you can comment. Click 'Login' at the top of the screen. If you're already logged in to your budget in the same browser, you'll automatically be signed into the forum. If not, sign in with the same email and password you use to log in to the YNAB app. If you haven't used YNAB before, you'll need to create an account first.
New folks will be assigned a random name, avatar, and username, but you can change your name and avatar if you like! Just click your user icon in the upper right corner and select Edit Profile.
My biggest YNAB win has been paying of a balance transfer card before the promotional period of 0 interest ran out. I am one payment away from paying it off and about 2 months left on the promotional period! YNAB has helped me allocate my money and revisit my priorities and make sure that I don't end up spending money that was supposed to be doing another job.

My biggest win was probably getting the smack in the face when I realized how much more I was spending than what was coming in. I knew that it was happening, but being able to track everything made it that much more real. The reason why I consider it a win is because it started me on my current plan to assign every dollar a purpose and to be aware of my spending.

My biggest YNAB win is that even though I've been budgeting for almost a year, and even though my financial situation has not changed, and even though I want to throw my computer out the window when I am faced with ALL THE FREAKING BILLS...despite all that and feeling totally unsuccessful in my financial life...I'm still here. I keep plugging numbers into my budget and I keep tracking my expenses, and I just keep plugging away at this budgeting thing even though I feel like I'm treading through mud. I'm going to believe that if I keep working at it, eventually I'll get a month ahead. I'm cautiously optimistic.

My biggest win was figuring out it was okay to spend right now, and how much was reasonable; that splurging a little wouldn't result in destitution in my retirement years. I was able to buy a car without having a panic attack. No more anxiety issues about my future. YNAB is a whole lot cheaper than therapy!

My biggest win was having an empty credit card available when my husband realized that he didn't know the pin # for his and we were standing at the mechanic to pay a $3200 repair. He kept saying "are you sure there's room on your card?" and I kept saying "I know there is (but you better pay me back today!)"

My biggest win is living within my means now and realizing that I don't need as much money in retirement as I used to think. At 60, that retirement is getting closer and closer, but I'm no longer despairing that I'll always have to work to stay afloat. I will float pretty well with what I'm saving for the future. Plus my debt will be paid off before the day I retire. It feels so liberating!