YNAB Giveaway!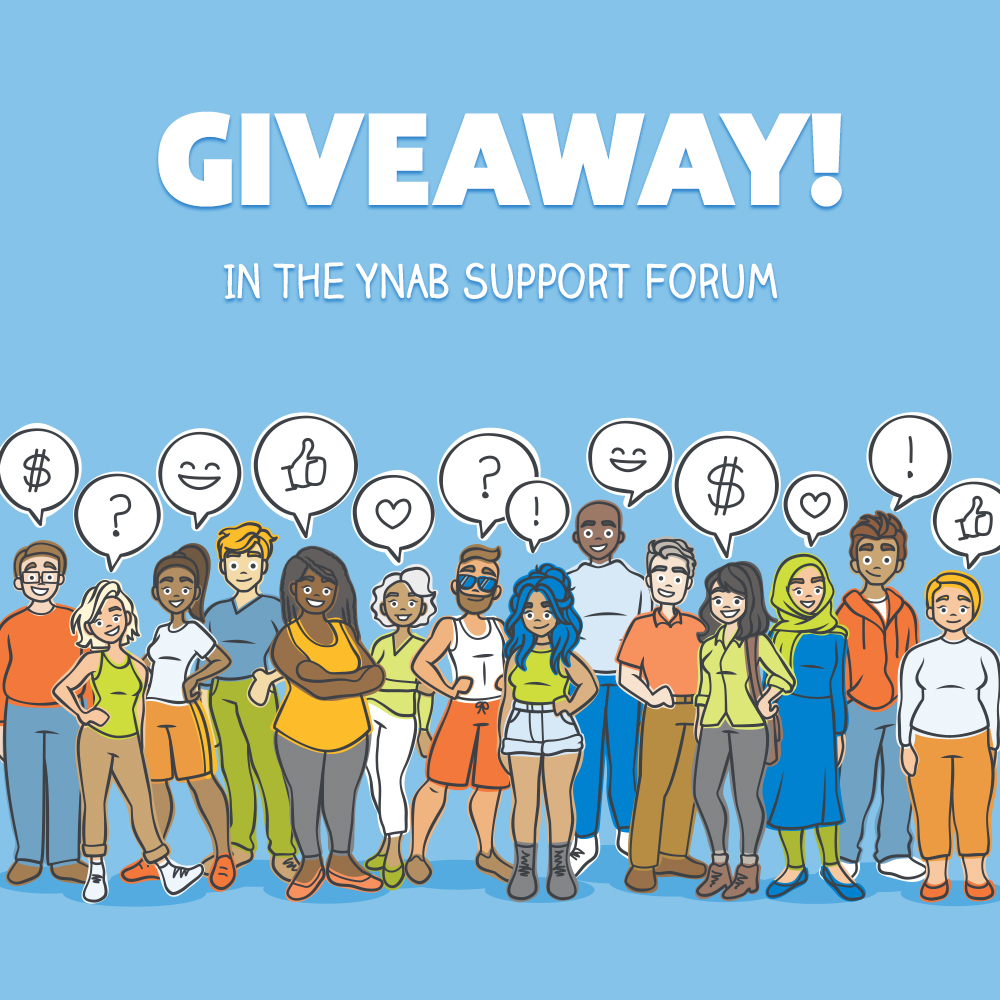 Hello, YNABers! It's time for another YNAB Forum Giveaway! We're hoping to get more folks to join the forum, so we're doing a little giveaway! We'll be sending three months of YNAB free and the YNAB book to five winners. We'd like to include new folks as well as current forum users, so even if you're not new, please participate!
So here's how it will work:
Leave a comment below answering this question: "What is your biggest YNAB Win?"
On Friday, 10/12 I will choose five people at random.
That day, I'll contact the winners privately to get some information so we can send the prizes!
A few notes for new folks:
If you haven't created an account with the forum yet, you'll just need to do so before you can comment. Click 'Login' at the top of the screen. If you're already logged in to your budget in the same browser, you'll automatically be signed into the forum. If not, sign in with the same email and password you use to log in to the YNAB app. If you haven't used YNAB before, you'll need to create an account first.
New folks will be assigned a random name, avatar, and username, but you can change your name and avatar if you like! Just click your user icon in the upper right corner and select Edit Profile.
My biggest YNAB win has been ending credit card float. This has been life changing. I'm no longer afraid to open my statements because I'm aware of what I've spent and already planned for the payment.

YNAB has made budgeting fun for me. Syncing my transactions is seriously one of my favorite daily tasks! YNAB has allowed me to finally feel in control of my finances and that's a huge win!

My biggest win is reducing our spending on silly things that were surreptitiously stealing our money... Like 5 to 7 dollar purchases at the gas station nearly every day before work! Now we have more money to go around during the month and fund things like remodeling the house or an upcoming vacation to Disney World!

My biggest win is how easy it is to update my budget. I used to spend hours trying to reconcile my accounts and sorting through my transactions, now it takes minutes to approve and reconcile to the penny! This leaves me with more time to actually analyze my spending habits and see where there are opportunities for improvement.

My biggest win was making it through the first summer (when I don't work, i'm a teacher) of my entire working life without racking up a credit card full of debt to pay down when I start getting paychecks again in September. It was such a great feeling to be able to use my first September paycheck for budgeting and goals rather than sending it all to my credit card bills! Thanks YNAB!

Over the 5+ years I've been using YNAB I've have so many wins! Here are some of the major ones. We paid in cash out-of-pocket for our wedding, honeymoon, and a major home improvement (a new roof and added square footage with a second floor- resale value for the win!).

Now, we've had a change in circumstances and are a single income household. We've rolled with the punches and we are on our way to having both of us follow our passions. We have less income but have our goals and spending inline and are happier for it.

Ours happened last Saturday! Our car broke down unexpectedly last week. Thanks to goal setting with YNAB and saving aggressively for the past several months, we were able to purchase a really nice vehicle with cash. It felt so good to tackle something with ease that would've previously crippled us financially!

Our biggest win was first getting clarity over where our money was going and then gaining the ability to be intentional and purposeful in how we spend our money. Not only has it allowed us to pay every bill and loan payment on time, we were also able to redirect money from random unused subscriptions and other useless, mindless spending to be able to build an emergency fund for the first time, contribute meaningfully to retirement, and buy our first house. The reporting feature helped us get an honest picture of how much we actually spend month to month (our grocery budget continues to astonish me). And defining and sticking to our budget together as a couple has helped my wife and I resolve many a squabble over our finances before they even begin. Game changer!

Also, as a software developer, YNAB is an awesome and inspiring Ember app. ☺️

My biggest YNAB win is happy money communications with my husband 😀. We have been married for 33 years and never managed to talk properly about money. The conversations usually ended with one or other of us walking off muttering "I wish I'd never asked the question in the first place!" Now, after only 2 weeks of YNAB we are chatting about categories and priorities happily over a cup of tea. Life is full of chat like "well we could do that, how long would it take to save up?" And "So, would you rather put the money to a holiday or see if we can get a month ahead?" Etc etc. after 33 years and 3 (now adult) kids this is HUGE! Thank you.