YNAB Giveaway!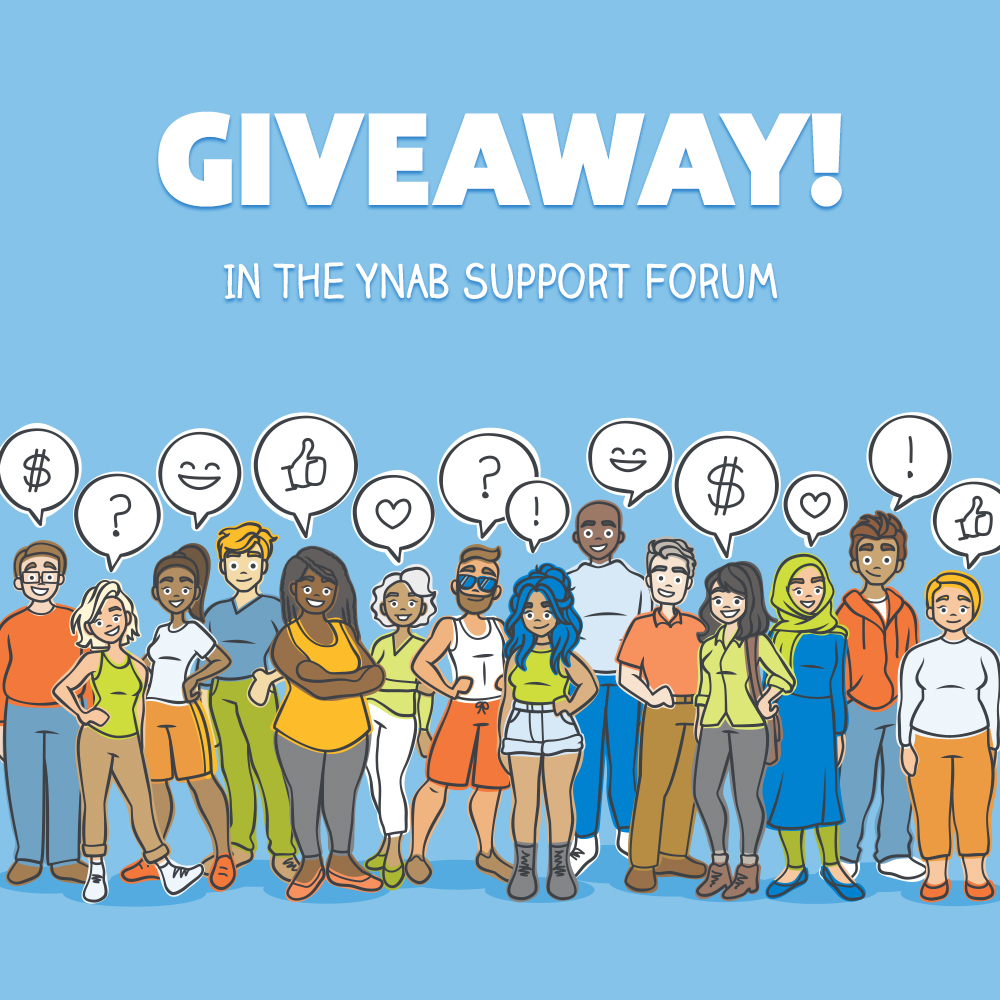 Hello, YNABers! It's time for another YNAB Forum Giveaway! We're hoping to get more folks to join the forum, so we're doing a little giveaway! We'll be sending three months of YNAB free and the YNAB book to five winners. We'd like to include new folks as well as current forum users, so even if you're not new, please participate!
So here's how it will work:
Leave a comment below answering this question: "What is your biggest YNAB Win?"
On Friday, 10/12 I will choose five people at random.
That day, I'll contact the winners privately to get some information so we can send the prizes!
A few notes for new folks:
If you haven't created an account with the forum yet, you'll just need to do so before you can comment. Click 'Login' at the top of the screen. If you're already logged in to your budget in the same browser, you'll automatically be signed into the forum. If not, sign in with the same email and password you use to log in to the YNAB app. If you haven't used YNAB before, you'll need to create an account first.
New folks will be assigned a random name, avatar, and username, but you can change your name and avatar if you like! Just click your user icon in the upper right corner and select Edit Profile.
Thank you, everybody, for sharing your awesome wins! Here are the winners of the giveaway:

Tan Screwdriver | @tan_screwdiver.1
Dalila | @dmercedesh
Slate Gray Cartridge | @slate_gray_cartridge.2
Aquamarine Case | @aquamarine_case.1
Slate Gray Barnacle | @slate_gray_barnacle.2

If you're on that list, I will send you a direct message today to get your address. For everybody else, I'm sorry you weren't picked this time, but we'll definitely do this again in the future!

My biggest win with YNAB is learning that it is ok for my budget to flex (roll with the punches). It's alright if my priorities change in a pay period. I used to give up on the budget if things didn't flow perfectly in the way I had originally planned. Now, my husband and I are nearly debt-free because of our flexible-budgeting consistency!

My biggest YNAB win is becoming debt free at age 23! In just a few months my car will be paid off 3 years early, and my credit cards will be paid in full and closed. Also at the age of 23, I have a full working budget and save for things like car maintenance, medical expenses, etc unlike most people my age. YNAB has seriously changed my life and I recommend it to everyone, and have even sat down with a few people to sign them up and get a budget started. I can't say enough about YNAB! ♡

My ginormous YNAB win is growing in the skill and art of self-control, especially through the incentive of aging my money. When a friend introduced me to YNAB a few months ago, I was intrigued by YNAB's concept of aging your money so that you are not dependent on the paycheck to paycheck flow of life. Having gone through Ramsey's Financial Peace University, we cleaned up our budget a TON! But YNAB's unique way of explaining proactive paths to financial security have really clicked with me and is helping me rethink and reframe our planning and spending. Thanks YNAB! 💯💯

My biggest YNAB win was being able to able to keep up with my expenses between jobs. I had gone on medical leave at my previous job and they stopped paying me when I asked for an extension to my leave. I wasn't too fond of the job, so I found a new one instead. Went about two months without pay, but YNAB helped me stay afloat financially. Then I got paid at my new job and I saw a fully funded budget for the first time. 😄

Hi there! How can I get to the forum from my YNAB account? I don't see a support option anywhere. Maybe that's why not a lot of people are engaging with it??

SOOO my biggest YNAB win so far (after a little more than a week of us) is ACTUALLY TRACKING WHERE MY MONEY IS GOING. It's amazing to see all the line items and where it's going. Also, the whole concept of only using money I have (vs. using money I WILL have next month) is really good for me. :) That's definitely a win for me.

I'm a recent college graduate, trying to make a life plan and figure out how to be both happy & financially prepared. My biggest YNAB win is setting aside money for my student loans and rent payments ahead of time, and having flexibility with the rest of my savings - it definitely came in handy when I unexpectedly had to buy a new laptop this summer ($1200 - my biggest independent purchase ever!). I love YNAB and recommend it to all my friends!

My biggest YNAB win was FINDING YNAB, and actually doing a budget for the first time in my life (I'm 44!!) I could cry!! I feel joy and a sense of freedom and FAITH that the rest of my life will be OK!! I took one class so far and plan to do ALL of them. Thank you so much for developing an easy to use app with so many resources and so much help. There are lots of options out there and yours is by far the best. It meets every need possible when it comes to finances....other than paying off our bills🤩😉but I got in this mess and with confidentiality get out of it now with YNAB!!!