YNAB Giveaway!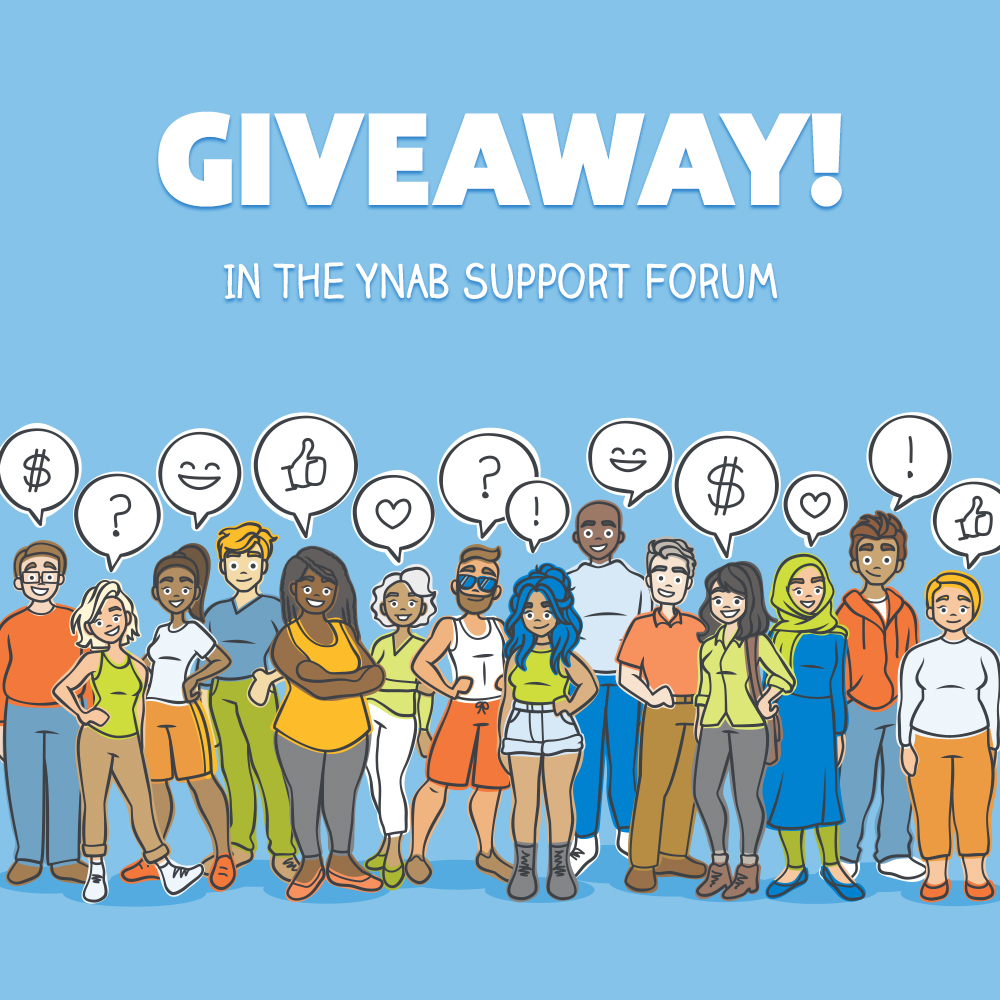 Hello, YNABers! It's time for another YNAB Forum Giveaway! We're hoping to get more folks to join the forum, so we're doing a little giveaway! We'll be sending three months of YNAB free and the YNAB book to five winners. We'd like to include new folks as well as current forum users, so even if you're not new, please participate!
So here's how it will work:
Leave a comment below answering this question: "What is your biggest YNAB Win?"
On Friday, 10/12 I will choose five people at random.
That day, I'll contact the winners privately to get some information so we can send the prizes!
A few notes for new folks:
If you haven't created an account with the forum yet, you'll just need to do so before you can comment. Click 'Login' at the top of the screen. If you're already logged in to your budget in the same browser, you'll automatically be signed into the forum. If not, sign in with the same email and password you use to log in to the YNAB app. If you haven't used YNAB before, you'll need to create an account first.
New folks will be assigned a random name, avatar, and username, but you can change your name and avatar if you like! Just click your user icon in the upper right corner and select Edit Profile.
My biggest win has been budgeting monthly in categories where small emergency surprises seem to pop up, so the money is there when I need it. When my dog needs to go to the vet unexpectedly, or I need I need to take my car to the mechanic, the money is already there, and it doesn't cause extra stress a budgeting issue these days.

YNAB is far better than that other four letter budget software we used. It's great to see color coding and see where we have over spent or where we are getting close to the bottom. It also will help us to cure the wounds by keeping us honest in the areas that we did overspend from month to month. So we don't just ignore the cut, but find a band aid for it until it can heal. Loving it!

My biggest YNAB win is knocking down debt. I remember telling someone at work that I didn't want to live paycheque to paycheque and she replied "why not? the rest of us do!". I thought I was stuck. YNAB helped me turn myself around and now we not only know where our money is going but we're budgetting champs!

YNAB has been a life changer for several years! The biggest win for me would be realizing how much money I actually spent on myself and how selfish my spending was. A cup of coffee here, some snacks there, going to the movies when I'm bored. The reports made that easy to see in my first year and was convicting in a way. Now I don't randomly spend money on myself. It's all planned and in the budget, along with opportunities to use that money for others and helping them instead of myself.

Convincing my wife that the budget isn't the enemy. The day I heard her realize, "It's like you give your dollars jobs!" I did a double-take! 😍 She came to that conclusion without ever reading a single piece of YNAB marketing material. 😮😮😮

Honorary biggest win: Making my last payment on $5,462.17 of debt this month thanks to YNAB and its method. Paid it all down in a year, woohoo!!!

My wife and I are both teachers who went from having 0 children to 3 within two years after adopting. We get paid once per month, on the last working day of the month. With this being said, we get paid the day prior to Christmas break, and then, not again until the last working day of January. In the past, we struggled greatly during this time, but this past year, after using YNAB, we were able to make it through the long stretch without over drawing or borrowing money to live. This is our biggest YNAB win. <3