YNAB Giveaway!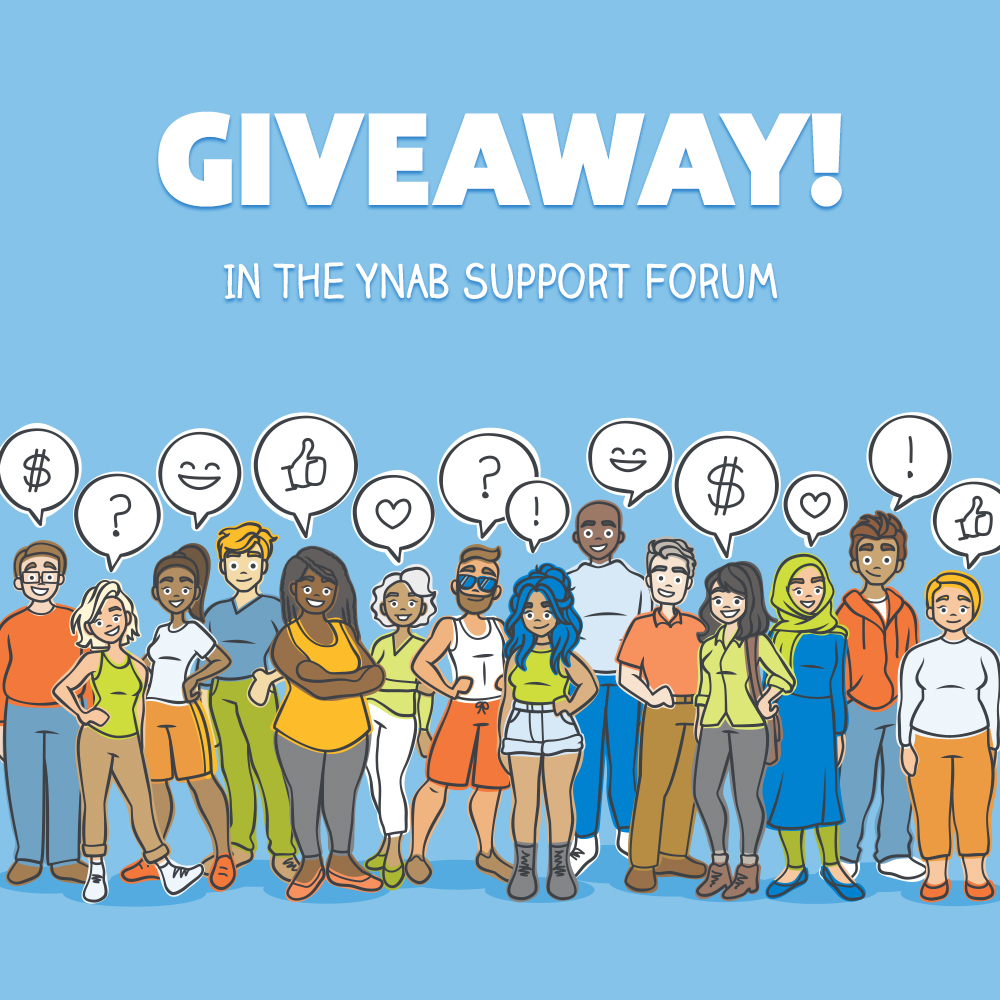 Hello, YNABers! It's time for another YNAB Forum Giveaway! We're hoping to get more folks to join the forum, so we're doing a little giveaway! We'll be sending three months of YNAB free and the YNAB book to five winners. We'd like to include new folks as well as current forum users, so even if you're not new, please participate!
So here's how it will work:
Leave a comment below answering this question: "What is your biggest YNAB Win?"
On Friday, 10/12 I will choose five people at random.
That day, I'll contact the winners privately to get some information so we can send the prizes!
A few notes for new folks:
If you haven't created an account with the forum yet, you'll just need to do so before you can comment. Click 'Login' at the top of the screen. If you're already logged in to your budget in the same browser, you'll automatically be signed into the forum. If not, sign in with the same email and password you use to log in to the YNAB app. If you haven't used YNAB before, you'll need to create an account first.
New folks will be assigned a random name, avatar, and username, but you can change your name and avatar if you like! Just click your user icon in the upper right corner and select Edit Profile.
It might seem simple, but actually having food in the fridge. I used to be a chronic fast food eater, but now i actually run out of room in the fridge and am spending less money.

My daughters Dad even got mad at me because he thought i was doing something shady in order to have so much food around. Hahahahahhaa!

Money is tight right now. My win was understanding where my money is going. Previous solutions had trouble with double entries for items and it threw off my numbers. It was hard to tell if I was winning. With YNAB I know exactly where I stand. It makes it easier to spend at christmas and not worry that I'll hurt my other priorities.

My biggest win is having a spouse who is excited to budget!! Instead of the partner who used to downward spiral into the bitter morass of self-pity of financial sadness (I would jump in too- it was not a pretty sight...swimming in the swamp of despair!)

Thanks for giving us an awesome tool to improve OUR LIVES (and pocketbook!) 💟 💯12 days AOM BABY! It might be small but we actually know how much to spend this month- that my friends is priceless~

My biggest YNAB moment is when it all fit together. After months and months of not understanding all of the integration, the light bulb finally went off in re-watching some of the tutorials and classes. One user in one of the credit card classes asked a question that made it all make sense to me. Finally. Thank you YNAB for providing multiple avenues of learning! 👍

My biggest YNAB win is improving my relationship with my husband. Before YNAB, financial/budgeting conversations were painful, and our opposite spending personalities created significant tension. With YNAB, the conversations have become much easier, and the app on our phone can be the 'messenger' when we're out of money, instead of one of us appearing to 'control' the spending of the other spouse!

My two biggest wins are a better understanding of how my in-home cash flow works, and having got so that we are almost able to pay our bills this month, with last months money. We're not quite there 100%, but pretty close. Coming from a situation where we were paying last months bills with this months money, it seems like a huge amount of progress to me!

My biggest YNAB win has been creating a plan with my partner that we're both excited about! I bought the YNAB book on Audible and my husband and I listened to it together on a long road trip. By the end of the trip we had a list of shared goals, had agreed upon a monthly $ amount of fun money for each of us and had a long hard look at all of our subscription services. It was MAGICAL!

I've slowly been able to get my girlfriend to understand the benefits of YNAB. She gives me money that I put in a category for her, like medical, pampering, etc. she's always astonished when I tell her the balances. She doesn't use it either, instead keeps adding more! She'll have her own YNAB one day I hope.