YNAB Giveaway!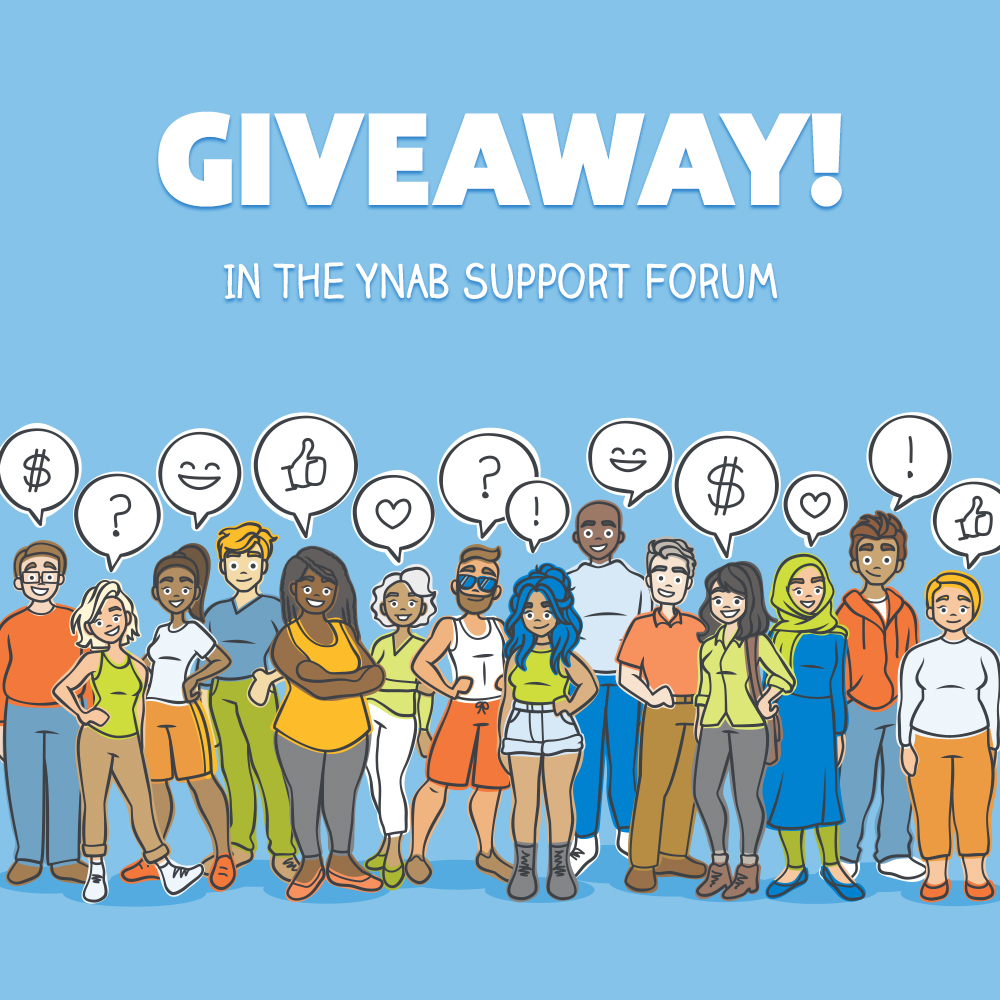 Hello, YNABers! It's time for another YNAB Forum Giveaway! We're hoping to get more folks to join the forum, so we're doing a little giveaway! We'll be sending three months of YNAB free and the YNAB book to five winners. We'd like to include new folks as well as current forum users, so even if you're not new, please participate!
So here's how it will work:
Leave a comment below answering this question: "What is your biggest YNAB Win?"
On Friday, 10/12 I will choose five people at random.
That day, I'll contact the winners privately to get some information so we can send the prizes!
A few notes for new folks:
If you haven't created an account with the forum yet, you'll just need to do so before you can comment. Click 'Login' at the top of the screen. If you're already logged in to your budget in the same browser, you'll automatically be signed into the forum. If not, sign in with the same email and password you use to log in to the YNAB app. If you haven't used YNAB before, you'll need to create an account first.
New folks will be assigned a random name, avatar, and username, but you can change your name and avatar if you like! Just click your user icon in the upper right corner and select Edit Profile.
My biggest YNAB win is having no financial stress! Things may not be perfect, but I have a solid emergency fund, I've saved for true expenses and can roll with the punches. I paid off all credit card debt within a few months of signing up for YNAB and haven't added new debt in the 2 years since then! I know what my bills are and never worry about late payments or overdraft fees. I have a solid understanding of my finances at any given time and can quickly make decisions about purchases (both big and small!)

My biggest YNAB win has been allowing me to spend more freely. I'm extremely frugal, but seeing that I have my money covering the necessities, allows me to feel free enough to treat myself without going "no, I need that $$ for ——". I can visibly see that it IS covered and I'm only using what's allotted for fun money and not taking the money AWAY from something more important. So strangely enough, YNAB has helped me SPEND with less stress while knowing my savings and other goals are all being met.

My biggest YNAB win, believe it or not, is knowing how's much money I have left and not going negative on my bank account. By not going negative, that means no NSF fees and hence, YNAB has paid off many times. Now I'm focusing on following the numbers more strictly and no longer forecasting my budget, but only budgeting money as I receive it.

My biggest YNAB win so far is reducing my monthly fixed expenses by $208.00/month! And I have more on the horizon, where I need to use up sessions to cancel services. There were so many items that were small, but when I was combing through my bank account to add categories, I kept identifying them. Many were services or subscriptions that I no longer use, or if I do usage is few and far between. I started cancelling and downgrading plans and it is amazing how quickly it adds up!! Happy to be able to choose where that money will work for me instead of having it drip drip drip out of my account on lame items.

My YNAB win is that after almost 2 yrs of using YNAB I continue to deepen my understanding of the 4 rules and make they become more and more natural! Now that my husband has been out of work for 5 months we still have another 3 months before we would need to borrow some money. What I love about this is that number one it is because of YNAB that we have been able to go this long and number 2 I know that even if we do take on some debt we won't have it for long, because I understand the rules and can roll with the punches. I feel a sense of confidence that all will be well, even during a time that would be scary for many people, because I see the whole picture! Debt isn't my favorite, but I can make my own choices utilizing YNAB and I am proud of myself for how long we have held out given the circumstances!!

Awareness - 100%. I used to look at my bills and be like "where the heck did the money go?" - now i have that knowledge. I used to just pick things up at random because they were 'cute', or it was a good price, or 'i'm sure i could use this', but then would complain about all the junk in my home. Now I think twice before picking something up and take it home.

My biggest YNAB win was aging our money enough that when our furnace broke unexpectedly, we had the money on hand to fix it! It completely removed the stress from what could have been an incredibly stressful situation and saved us the need to take out a loan keeping even more money in our pocket. YNAB for the win!

My biggest YNAB win is control. I finally feel in control of my finances and that I have a good foundations with my finances. I've been able to hit major savings goals, AND after getting punched in the face by life in June, I was able to recover in September. Ultimately the big win is that I'm finally in control of my finances, and that makes me feel *SO* proud of myself. I'm finally adulting properly and want to continue the upward trajectory.

My biggest win... my husband can now see exactly where we are financially and is a lot more at ease.... oops I guess that's his biggest win LOL My big win is being alerted when non-authorized charges are made. We had one happen not too long ago. A charge for $1500 was made on our account by an unknown party, but because I saw it right away, the bank was able to reverse it instead of spending 10 days to investigate. Whew!!!