YNAB Giveaway!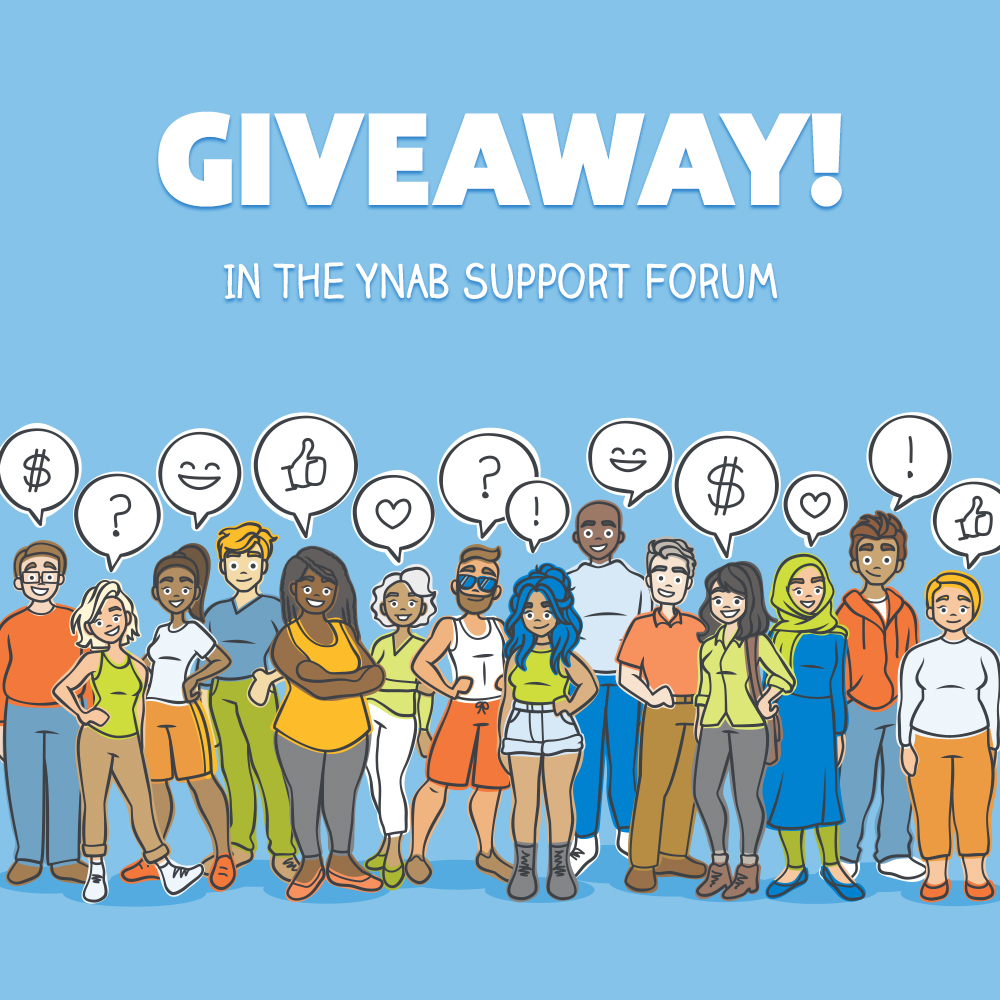 Hello, YNABers! It's time for another YNAB Forum Giveaway! We're hoping to get more folks to join the forum, so we're doing a little giveaway! We'll be sending three months of YNAB free and the YNAB book to five winners. We'd like to include new folks as well as current forum users, so even if you're not new, please participate!
So here's how it will work:
Leave a comment below answering this question: "What is your biggest YNAB Win?"
On Friday, 10/12 I will choose five people at random.
That day, I'll contact the winners privately to get some information so we can send the prizes!
A few notes for new folks:
If you haven't created an account with the forum yet, you'll just need to do so before you can comment. Click 'Login' at the top of the screen. If you're already logged in to your budget in the same browser, you'll automatically be signed into the forum. If not, sign in with the same email and password you use to log in to the YNAB app. If you haven't used YNAB before, you'll need to create an account first.
New folks will be assigned a random name, avatar, and username, but you can change your name and avatar if you like! Just click your user icon in the upper right corner and select Edit Profile.
My biggest YNAB win is how much I look forward to budgeting! When I get unexpected funds, my favorite thing to do is to decide how to allocate it (instead of blowing it on something temporary). I was so excited to put my grandpa's birthday check towards new windshield wipers (and treat myself to a nicer pair). My friends may laugh but I am so happy with that decision and it would not have happened without YNAB.

My biggest win is a sense of optimism about my future. Before I had regarded my savings as an undifferentiated sum which never felt like enough. Having a better sense of what my long-terms obligations are and squirrelling extra cash away every month has not only made me feel more secure but has also helped me think more creatively about how I can use that money to invest in my future career and personal development.

Our family's biggest YNAB win 🏆 was finally learning how to manage money, which allows me to be a stay at home mum to our awesome toddler 👧 (plus a baby 👶 on the way in February) as we (now) only have mortgage debt!

Thank you YNAB🌟👏

I feel very fortunate that I'm able to spend this precious time with our kids 💖

My biggest YNAB win is paying attention and planning where my dollars go. For all of my adult life, I have been responding to bills or impulses. Many of the impulses were good, like buying a car, a house, and other touchstones of the American Dream. Now I prioritize in a way that is true to me. I am grateful for the forward thinking that I am learning while using this tool.

My biggest YNAB win is being more mindful of where all of our money is going. Before starting with YNAB in January we were basically living paycheck to paycheck and unsure of where all our money was going. 9 months later we are a full month ahead on all of our bills and $14k less in debt because we were able to send the extra money we "found" with YNAB to paying off debt!

Our biggest YNAB win has definitely been changing our budgeting to meet where we are. Only budgeting with the money we have. I used to get so caught up with forecasting and "budgeting" for weeks/months in advance and it was so stressful! Now I can stay in the moment better and actually feel more control over our finances.

My biggest YNAB win is probably being able to put almost all of my money into my savings account for the high interest rate regardless of its job. I don't use my checking account for much other than my credit card payments, student loans, and one other bill; I buy everything else with a credit card and then pay it off in full when my statement comes in. I just have to make sure there's enough actually in my checking account for the outflows. I'm not hiding the money from myself by keeping most of it in savings, I'm taking advantage of the great interest rate.

My biggest win is my mental health- I was constantly overpaying debt and not leaving myself to fund my True Expenses- now that I have switched that around, I'm paying off just as much but my anxiety level has plummeted! I'm set to pay off a credit card this month and my fiancé wants to get on board with YNAB too! It's been truly life changing- thank you!!